Many months before Bridging Finance was put into receivership, I received tips about how fishy it was. When Admiral Gary Ng was exposed by IIROC in November 2020, I wrote that Bridging Finance was likely one of his lenders, thanks to such tips. Bridging Finance received a wave of redemption requests in the year leading up to the receivership. Some people knew enough to get out. Despite the tips, I did not write anything meaningful about Bridging Finance - a failure of my responsibilities as Bay Street's Chief Kompromat Officer. And that is due to my lack of interest and expertise in private debt funds.
Well, that changes today. I have decided to cover private debt funds bigly. That's in large part because I now have access to someone who knows this area in-depth and has already done a lot of investigative work.  Research gathered by my partner leads me to think there's more trouble to come. And trouble can come in a variety of ways. The number one problem in investing remains misjudgment, occurrences of outright fraud are pretty rare. Keep that in mind as you read this and future posts.  I am building a separate mailing list just for coverage of private debt funds, subscribe using the link near the top of this post. And please get in touch with tips and questions.
Let's start with some very basic details about one of the biggest players. Purely in the interest of bigliness, not because we are ready to say anything conclusive about it, at this stage. Remember Bridging Finance's former BFF Ninepoint Partners? Ninepoint also distributes a few other private debt funds, most notably the Ninepoint-TEC Private Credit Fund. TEC stands for Third Eye Capital, the sub-advisor. Third Eye manages a total of about $2.8 billion. Out of Ninepoint's $8B in AUM, Third Eye Capital accounts for $1.3B. So you can say that the fates of both firms are intertwined to some extent. Third Eye recently raised some money for its own corporate purposes from, Kudu Investment Management, an American investor in money management firms.  If you are swayed by such American validation, bear in mind that BlackRock financed Bridging Finance and Gary Ng, shortly before they went kaput.
Third Eye claims this financing is to enable them to launch new funds. In March 2020, in the depths of the downturn, they said they were working on launching a new billion dollar fund, but that hasn't happened yet.  In 2020, Third Eye Capital Alternative Credit Trust reported $93.5m in net redemptions. That's for a fund with total AUM of around $350m. Of course, investing is not a popularity contest, that's merely one data point to consider. Westcourt Capital, a purveyor of "alternative" funds, was until recently happy to sell Third Eye funds. In return, it got a commission equivalent to 40% of the fixed fees on funds they place. As recently as the year 2020, this commission amounted to $933k. I get the impression Westcourt is no longer  interested in promoting Third Eye.
Third Eye has financed a number of companies whose operating performance has thereafter deteriorated. Have you heard of the Toronto restaurants La Banane or Jacobs & Co? They are part of the King Street Food Group. Guess who now owns most of the assets of King Street? Third Eye. King Street could not repay about $38m they owed to Third Eye.  And they could not find an acquirer willing to pay enough to satisfy the debt.  So, in the end, Third Eye took over the assets. What are the assets of a restaurant business? Maybe some silverware, a wine collection, tables and chairs. Imagine you're a retail investor looking for steady income and your fund ends up owning an upscale restaurant business, a notoriously difficult business at the best of times. Not a good outcome.
Of course, many restaurants are in trouble through no fault of their own. But my partner has identified a number of other loans by Third Eye that are in various stages of distress. Third Eye plays, in a meaningful way, in the distressed space. It's a risky area, as demonstrated by the implosion of Callidus Capital. Incidentally, one of the top 3 people at Third Eye, Mark Horrox, comes out of Catalyst Capital, the sponsor of Callidus. Newton Glassman, top banana at Catalyst, was apparently not impressed with Mark's tenure at Catalyst: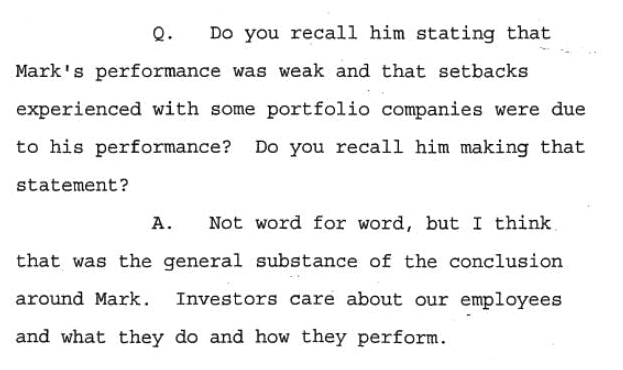 Third Eye has a pretty thin investment team for a firm of their size. That can partly be explained by the fact that they make very chunky investments: in the fund they manage for Ninepoint, the top 5 positions account for 57% of NAV. That's another risk factor.
In a Bloomberg article dated March 20th, 2020, Arif Bhalwani, head honcho of Third Eye is quoted thus:
"The legitimacy of the private debt asset class is going to be tested in this environment – will they fill the funding gap or exacerbate credit risks? There are several zombie borrowers lurking inside private debt portfolios."
Who are these zombie borrowers and where are they lurking? The suspense is killing me! I wish Arif would just come out and name names. The other person quoted in that article is none other than David Sharpe, of Bridging Finance infamy.
I have focused here on my own style - what I call "circumstantial conjectures" - and what others might call drive-by smears. I assure you my partner's brand of research is different. I am eager to send you more info, but I want to make sure I only send it to people who are interested, so if you are, subscribe using the form above.
And we are not the only people scrutinizing Third Eye Capital as a matter of priority. Ninepoint itself has disclosed in the footnotes of a recent presentation:
"Ninepoint Partners is initiating 3rd party operations audit for Ninepoint-TEC Private Credit Fund and AIP Convertible Private Debt Fund LP in 2021 and other Private Debt Funds subsequently."
I'd be curious to know why those two funds were selected to go first. Finally, remember to send tips, suggestions and questions.  
You can find all our private debt stories here.