It seems Ninepoint Partners has managed to step on it again. One of their sub-advisors filed a RICO complaint in a US Federal Court claiming they were the victim of "a highly sophisticated fraudulent scheme" that cost them almost US$20M. RICO or Racketeer Influenced and Corrupt Organizations Act is a US legislation that allows victims of organized crime to sue for punitive damages. The lawsuit has just been launched and allegations have not been proven in court. The facts outlined by the sub-advisor might shed some light on Ninepoint's decision to delete all traces of the Ninepoint Trade Finance fund from their website.

Ninepoint Trade Finance Fund was launched in 2019, with the objective of:
"achieving attractive risk-adjusted returns with the downside protection associated with investing in trade finance and other asset-based and receivable-based secured private credit opportunities."

It's the same basic business as Sean Rogister's Cortland Credit Strategies Fund and Greensill Capital. In Ninepoint's case, they joined forces with Dipak Jogia and Highmore Group Advisors. James Fox of Ninepoint described Highmore as "one of the best teams in the business." Highmore claims to manage and advise over $2B.

We are getting used to Ninepoint & Co's light use of the terms "one of the best teams in business" or "one of this country's most successful special situation investors."

Highmore Group Advisors has joined the ranks of alternative lenders that have been fooled by "sophisticated schemes" of the type mastered by Gary Ng. A select group of lenders composed of Bridging Finance, Third Eye Capital, RCM Capital and Clearflow Commercial Finance.


How Highmore got Gary Ng'd

In the court filing, Highmore complains of being defrauded by a group of companies led by a Washington State resident, Jason Allen Greig ("Greig"). Greig was introduced by a broker that identifies potential transactions for Highmore, in exchange for a share of the profits.

According to the complaint, starting in September 2019, Dipak and his team thought they were dealing with a family member and significant shareholder of the Greig Group, a 100-year-old private company based in Norway involved in shipping and logistics. Based on misappropriated or entirely falsified corporate tax returns, bank and financial statements, Greig deceived Highmore into believing he had a profitable business and a US$300M net worth.

In May 2020, The Greig Companies, Inc (TGC) one of Greig's entities, defaulted on almost US$20M payable to Highmore. After the default, for more than a year, Dipak Jogia "engaged in multiple meetings, discussions and correspondence with representatives and employees of TGC, including Jason Allen Greig, in an effort to recover payment."

The complaint states that during the recovery efforts, Greig even disguised his own voice to impersonate a fictitious TGC director and assure Jogia that the obligations would be repaid. Greig made several representations related to a possible repayment path involving a line of credit from Lloyds Bank.

Highmore contends that Greig & Co spent hundreds of thousands of dollars on luxury vehicles, including an Aston Martin, a Mercedes-Benz G Wagon and a Tesla Model X. (No Bentleys though.)

According to court documents, a year after the initial default, in May 2021, an associate of Greig sent Jogia "screenshots purporting to be from Lloyds Bank's link portal reflecting a pending wire for $24,466,688.06 to First Republic Bank's [Highmore's bank] swift code reflecting the status of the credit line ..." Those screenshots turned out to be fake.

Also in May 2021, "Greig represented to Highmore that TGC was being purchased by Maersk" (Copenhagen-based Maersk is the current second-largest shipping group in the world).

The complaint states that Euler Hermes, a provider of trade-related insurance, issued insurance policies for the transactions listing Highmore as beneficiary. It's unclear what the net impact of the fraud on the transaction was given the existence of the insurance.

In July 2021, Highmore sued Greig in the Supreme Court of New York for breach of the guaranty. In December 2021, they filed the RICO complaint in Federal Court, arguing that Greig ran a criminal enterprise and that Highmore's relationship with Greig has cost them almost US$20M.

The Greig transaction likely caused the demise of the Ninepoint Trade Finance Fund

The Highmore/Ninepoint fund's last reported AUM was $49.5M. The fund performed as you would expect a Ninepoint alternative income fund to perform - consistent positive monthly returns with a rare down month. That performance held until June 2021, when it wiped out the previous year's gains by dropping 6.83% in the month. That's around the same time that Highmore initiated their first legal action against Greig. Here's Ninepoint Trade Finance Fund's "Mountain" Chart: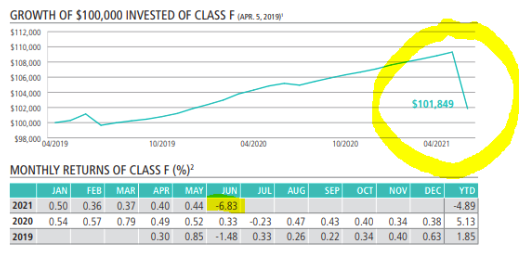 Dipak's latest disclosure to investors, published in May 2021, gave very little indication of pending doom. Here's an excerpt from Ninepoint Trade Finance Fund's April 2021 Commentary by Dipak Jogia, published in May 2021:

"Repayment on one of our supply chain finance transactions has been delayed due to disruptions in their business and late fees have been acknowledged by the borrower. Total exposure to this borrower represents 25.4% of Fund AUM as of April 30th. The Borrower intends to repay the line in full through a credit line in place at their bank in the UK. [...]

The borrower's business was recently acquired by a subsidiary of a European integrated shipping company based in Copenhagen."


See the full context of the passage in the image below:

Given all the dots we can connect, ie a troubled loan, repayment using a credit line from a UK bank, the purported acquisition by a Danish shipping company, and personal guarantees from an owner with +250M net worth, we believe that the borrower that represented 25.4% of the Ninepoint is related to Greig.

Did Ninepoint's much-touted oversight and governance role work? It looks like it didn't. What happened to Ninepoint's "Deal-specific oversight"? I can't help shake the feeling that all this could have been avoided if they had used trapezoids in this graph instead of chevrons.






From January 2021 until June 2021, while Dipak was trying to recover the payment, Ninepoint Trade Finance Fund was still able to raise $1.7M. Most of it came from 107 Saskatchewan's investors that poured almost $1.2M into the fund. By November 2021, the fund had disappeared from Ninepoint's website.

A Jason Allen Greig, from Washington state, had filed for a Chapter 7 bankruptcy and received a cease and desist from Washington State's securities regulator and the SEC for different violations of securities regulations. Assuming that there's only one sketchy Jason Allen Greig in Washington state, some due diligence could have avoided all this pain. I have to wonder if the "best in the business" missed something so obvious. As for Ninepoint, it would not be out of character for them to be in bed with someone with a checkered regulatory history.

A certain select group of lenders believe themselves to have a superpower to find hidden gems missed by banks. They think these unique gems will allow them to deliver outsized returns without volatility or correlations to the market. But in the real world, economic laws apply to all of us, and quite often, these gems turn out to be worthless businesses.


As usual, feel free to reach out to verify our documentary sources.