Late last year, the Canadian branch of the billionaire Weston family reached a deal to sell their Selfridges Group, a collection of 18 upscale department stores, in the UK and in Europe. The buyer was a Thai / Austrian joint venture. (They are holding onto their Canadian luxury chain Holt Renfrew, though). Selfridges was originally bought for £628m in 2002 and now has been sold for £4b - about a 10% compound return before distributions, if any. This means that on closing sometime this year, the Westons' holding company Wittington, will find itself with billions to deploy. The Westons also recently closed the sale of their bakery division for $375m.
Wittington controls Loblaw, among other smaller interests. The family has an overall net worth of over $10b, oversees annual revenue of $50b and 200k employees. The sales are part of a busy period of transformation for the Westons following the passing of patriarch W. Galen Weston in April of last year. His son, Galen G. Weston, is currently the controlling shareholder of Wittington. Daughter Alannah was more involved with Selfridges, but the siblings decided they did not have the "conviction to carry on" given all the challenges retail businesses are facing. Alannah is based in the UK. The family also spends time in Windsor, Florida, a gated community the Weston parents developed that has been called "a plutocrats' playground". Here's a glimpse into their lifestyle:
​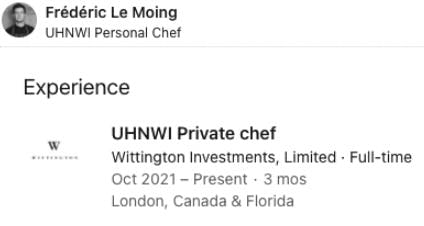 Even their French private chef is on LinkedIn, that's real fancy. The burden of investing the proceeds during these heady times in the market will fall upon Cornell Wright, who assumed the role of President at Wittington this year. Cornell was a partner at Torys and co-head of their M&A practice before joining Wittington in 2021. He did major transactional work for both the Thomsons and the Westons as a lawyer. He is also a director of BCE. Cornell, as the saying goes, happens to be Black. If you're wondering: does he know Wes Hall, that's very gauche of you. But the answer is yes, they collaborated on the latter's BlackNorth Initiative, to boost ethnic diversity in the upper echelons of corporate Canada.
​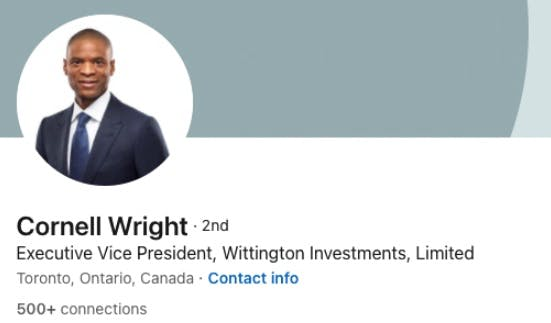 ​
Wittington's top job is illustrative of such "diversification". Cornell's predecessor Pavi Binning was born in India. And before that, Anthony Graham was an investment banker who came from a wealthy Montreal family that owned a brokerage firm, Oswald Drinkwater. The Graham family now owns Graymont, a global leader in "lime and limestone solutions". They have more than a 1,000 employees and worldwide operations. So Graham was a pretty wealthy scion managing the fortunes of an even wealthier family. Not that there's anything wrong with wealth. But true diversity won't be achieved until the Westons hire a German chef.
The question is how will Wittington redeploy the proceeds of the sale. My best guess is that it will have something to do with with the force that caused their Selfridge investment to stagnate: technology. I say this because everyone and their uncle is trying to get into tech. I also base this on the techno shift that all Weston operations have taken in recent years. For example, Loblaw is spending hundreds of millions in tech investments to upgrade its operations. Loblaw has a digital arm, Loblaw Digital, that employs 600 people and has all the accoutrements of a tech startup. Daniel Debow, a tech founder, angel investor and current Shopify executive is on the board of Loblaw. In 2019, Wittington formed an affiliate, Wittington Ventures, a $100m VC fund headed by Jim Orlando. He was previously Managing Partner of OMERS Ventures. The idea is to fund startups that would have synergies with Loblaw companies. This has led to experimentation like driverless delivery.
On the other hand, the Westons have historically been acquirers - every major asset they have owned, aside from the original bakery, was an acquisition, including Loblaw. And with Cornell Wright's background in major M&A, maybe they'll go for one big acquisition. I also don't know who's a more typical "CIO" type at Wittington - you know, someone who thinks deep thoughts about EBITDA, volatility, etc. In any case, my real expertise is kompromat, so this might be a good time to mention that Galen Weston Jr.'s grandfather was a supporter of apartheid in South Africa who has said things that would get him canceled in a heartbeat today.
Wittington is based at 22 St-Clair Avenue East at the corner of Yonge, where they have applied to develop St-Clair Place, a mixed-use real estate project comprising of three high-rise towers. More info here.  It took me a while to figure that this street corner is a nexus of Toronto wealth and power - it's the place to be for family offices. Finally, for social climbers, these are the directors of the Garfield Weston foundation, mostly heirs. These are the family names to hone in on if you want to marry well:
Emma Adamo
Nancy Baron
Christian Bauta
Gretchen Bauta
Nicolas Bauta
Pilar Bauta
Camilla Dalglish
Geordie Dalglish
Stewart Green
Claudia Hepburn
Roger Lindsay
Eliza Mitchell
Garfield Mitchell
Mark Mitchell
Tamara Rebanks
Wendy Rebanks
Robert Vaux
Alannah Weston
Galen Weston
Hilary Weston