"The only time that new kings are born is when there's chaos. If everything's hunky dory, the new kids never get a shot."
-Admiral Gary Ng (ret.), Former Executive Chairman of PI Financial
Miles Nadal had a tradition of giving his daughters one share of Berkshire Hathaway on their birthdays. Boring! Fortunately, with Miles' ever growing stature in the "independent" brokerage space, they will have access to the very best opportunities in uranium, lithium, cannabis - all the real growth sectors. Miles Nadal's crowning achievement to date in finance is of course the deal to merge his Echelon Wealth Partners with PI Financial. But his incursions into medium-high finance go back to the 90s. (He is more typically associated with the world of marketing, as he was the founder and driving force of MDC Partners for decades) This is a review of some of his dealmaking history.
You might think that paying $450k for a pair of shoes disqualifies one as a capital allocator. Wrong! He probably made money on that. Plus, what does capital allocation have to do with money management? It's all about marketing. I have a general rule that you will never find someone who's great at both marketing and investing. Is Miles versatile enough to be the 1 in 8 billion exception? We shall see. In 1997, Miles Nadal co-founded First Asset Management with Michael Simonetta to acquire a string of asset management businesses. The idea was similar to the "partnership" model Miles pioneered at MDC, ie buying control of boutiques but letting them operate independently. Their holdings included Foyston Gordon & Payne, Beutel Goodman, Montrusco Bolton, Deans Knight, Triax Capital and Covington Capital. About $30B AUM in total. But there were issues. As with MDC, Nadal had a rich management-services contract with First Asset and there was some grumbling among Miles' partners when things didn't progress as they had hoped. First Asset had also borrowed too much. Eventually, Miles' partners terminated his contract. In the end, they were able to exit for $306m (including assumed debt) in cash and shares in 2005. Is that something? They raised about $200m from the likes of CIBC, Goldman Sachs and Borealis Capital, so it was probably a tepid result over 8 years ROI-wise. Miles has maintained some associations for decades, but under the strains of that deal, high-powered lawyer Lloyd Fogler (of Fogler Rubinoff) left the board of First Asset. That was his father-in-law. Or ex-father-in-law, I should say. Michael Simonetta is Chairman of Evolve ETFs these days.
Miles Buffett 2.0
I am more familiar with Artemis Investment Management, which Miles founded in 2011, with a focus on selling alternatives to HNWs. That was a flop, but I say let he who has never held misguided beliefs about magical alternative strategies cast the first stone. Artemis is still around, but it has been mostly reduced to the management of two listed small closed-ended funds. One of those funds, the Citadel Income Fund is the target of activist investor Saba Capital Management. Saba wants the fund to be liquidated (it trades at a steep discount to NAV.) Saba is led by Boaz Weinstein who was one of the people who cashed in on the subprime mortgage crisis. Typical hurtful activist expressions were invoked: "abysmal trading performance", "unacceptable corporate governance", "chronic underperformance". Also, "cash cow". And this: "We have never encountered a governance structure that is so clearly and deliberately designed to entrench management." The actual investment manager of the fund is Vestcap, another small holding in Miles' empire. The fund has a management expense ratio of 3% for a portfolio that looks like this: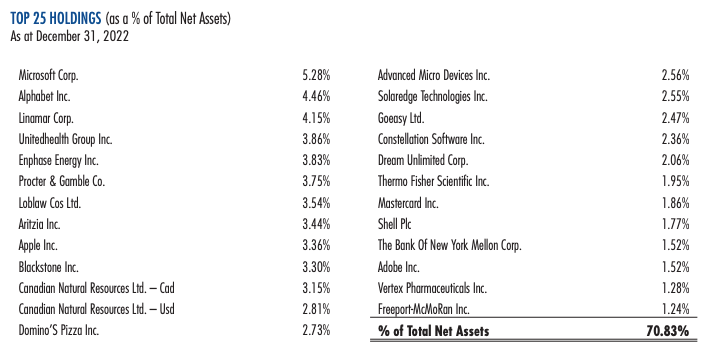 Vestcap at one point had $500m AUM, but it's much smaller these days. Artemis and Vestcap are the smouldering remains of the second iteration of Miles Nadal, financier.
Miles' first major venture post-MDC was investing $27m in exchange for 60% of Echelon Wealth in 2016. At the time, the firm had $4B in assets. This grew to a recent $8B. Echelon is soon merging with PI Financial, becoming the second biggest non-bank brokerage after Canaccord with $12B in client assets for the combined firm [An alert reader pointed out that Raymond James Canada has $67B in client assets, so the claim to being second biggest might be questionable]. I don't know too much about Echelon and how it has progressed. In any event, Miles' financial firms are now secondary to his involvement in real estate brokerage. Here's an overview of that.
Miles Nadal's real estate brokerage empire
Miles bought high-end Toronto real estate brokerage Chestnut Park in mid-2007. This was the first deal his Peerage Realty made. A second deal, to acquire Baker Real Estate, was made in mid-2008. This might initially have looked like terrible timing to do anything in the housing space. But as we all found out, the Canadian market was largely spared from the crisis and then went on an epic run afterwards. So those first two deals must have been spectacular. However, the world conspires for the majority of players to be procyclical. Miles, who in some press remarks I find very candid, alludes to this. This is a quote from 2010:
"If you actually look at our track record over 30 years, you will see that inevitably when we make bold initiatives, sometimes the world melts down completely."
He then went on to list his black swan moments: "We went public [in New York] on Friday, Oct. 16, 1987, the day before Black Monday. Got listed [in Toronto] on Friday, October 23, 1987, the first day in the history of the Toronto Stock Exchange it closed early. Took [MDC subsidiary] Maxxcom public in March of 2001, just before the Internet bubble burst."
Of course, unloading stuff at peak is to the advantage of the seller, so those particular examples might be a case of humble-bragging. There are probably other better examples. He concluded by saying:
"When I reflect back on my history, when things went wrong, we didn't have enough margin for error, and our reach exceeded our grasp."
Peerage Realty is "projected to transact over C$49 billion in 2022". Miles today is the most exposed to the real estate market just as the market is facing some adversity. (To be fair, you can say that about any successful, exponentially growing investor.) He has said that 80% of Peerage Realty's growth has come in the past 4 years. He has focused mostly on the Canadian market, with some more recent moves in the US. In August 2021, Peerage Realty secured a 3-year, $175m revolving credit facilities with BMO, which they described as a "substantial increase in our expansion capital to further our acquisition growth plans for the future." Is this a savvy move or not? I don't know! Three-years seems like a pretty short window. And I think revolving credit facilities come with variable interest rate. In contrast, master capital allocator Warren Buffett, raised money via yen-denominated five-year bonds with a 0.20% coupon.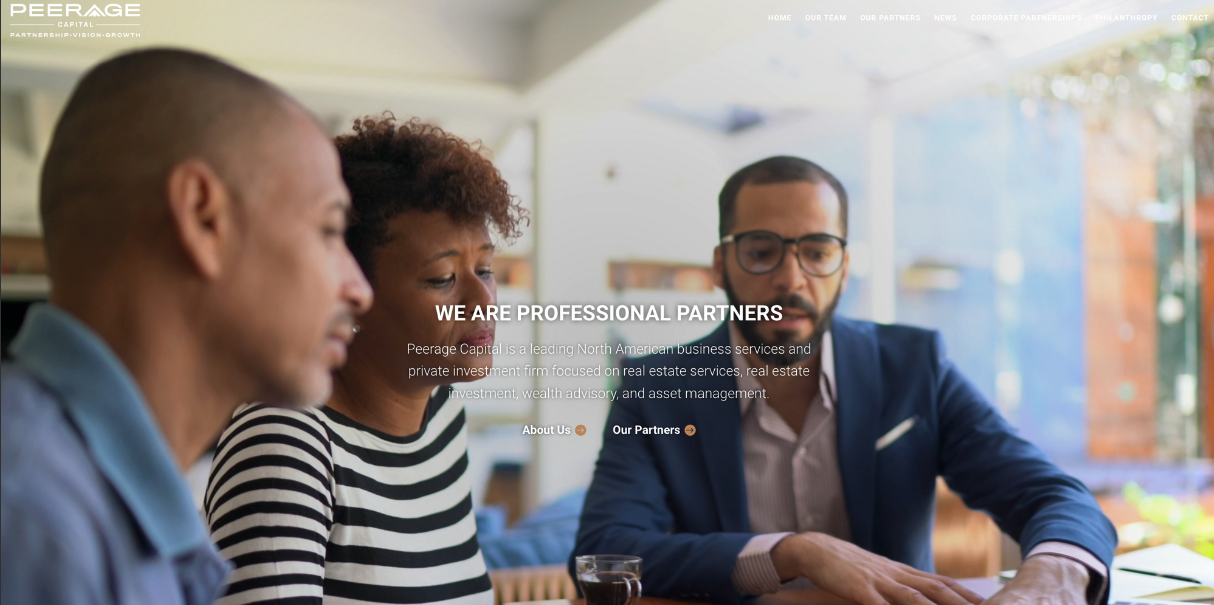 You can learn more about Peerage Capital and its holdings on their snazzy new corporate website.

Miles Nadal's net worth is getting up there. But the publicly listed part of giant RE/MAX is worth $500m, so I doubt he has attained the all-important billionaire status. Has Miles conquered his dealmaking demons? On balance, with the limited information I have, it's a definite maybe.
This was my previous post on Miles Nadal: