Ira Gluskin (1942-202?)
As you know, serious publications like The New York Times prepare obituaries of luminaries in advance, so that they can rapidly react to their demise. OPM Wire goes one step further, by pre-publishing obituaries of the nearly-departed, so that they know what will be said of them.  It's just basic courtesy.
I saw that Ira has an entity named Irager these days. (Not to be confused with iRager, which is a popular nightclub in the metaverse.) The "ger" is for Gerry Sheff, Ira's co-founder at Gluskin Sheff. So those two are still together after all these years. As before, Ira is Chief Investment Officer. This first post is about Ira, later on, I will cover some activities of Irager and will also write on Gerald Sheff.
Ira Gluskin: The first 100 years
Brief background for the benefit of my boomer readers, who may be too young to be aware. Like his fellow Palm Beach aficionado Donald Trump, Ira's business career started with a small million-dollar loan. From TD Bank in Ira's case. That's because he was expected to put that up in the inaugural fund of the investment firm he co-founded in 1984, Gluskin Sheff. Ira was a well-known real estate analyst and he partnered with Gerald Sheff, then an executive at property developer Cadillac Fairview. Sheff and 24 other clients, mostly from the real estate industry, also put in a million each. Their firm has been associated with High Net Worth investing ever since. The firm made a crucial decision early on:
"With the founding philosophy that the interests of clients and their investment manager should be aligned, we were one of the first investment managers in Canada to manage assets on a Performance Fee basis."
How thoughtful of them! However altruistic the motive, it still proved a very profitable move. Under the tenure of the original founders, Gluskin Sheff was a rare money manager that combined good investing and good marketing. In the first two decades or so, their flagship strategy compounded at 14% net of fees. The assets grew at 26% annualized. The partners eventually gathered a few billions in AUM, built Gluskin Sheff into a "luxury brand" in wealth management, and in 2006, took the company public. To be a Gluskin partner really meant something - a bit like a Canadian version of being a Goldman partner in the partnership days.
Gerald Sheff is, without a doubt, the more aggressive partner. Consider this exchange during a Globe interview:
Gluskin: I'm an easygoing guy. Anybody could work with me.
Sheff: He is so full of shit, it's unbelievable. It's worked because from day one, he runs the money and I run the business. I have no interest in running the money, and 99% of the time I have no opinion on what he is doing.
Anyways, the founders have not been with the firm since 2013 and they even had a legal fight over some retirement benefits.  The firm was sold to Onex in 2019 for $445m.
Outside of work, Ira has long been associated with Sinai Health, not only as a benefactor, but even more so as a major potential beneficiary. In 2022, Ira was given a prehumous honorary degree by U of T, with summa cum aulde. Ira said during the convocation speech that he suffers from speculative tendencies. He has been buying Tesla puts for many years, for instance. He has also been wheeling and dealing outside of the public markets. He was a key early backer of Porter Airlines. He is a client and/or advisor of a number of money management firms, including the REITs specialist Vision Capital. He used to serve on the board of advisors of Ewing Morris. Real estate is still close to Ira's heart. He's on the board of rental housing firm Tricon Residential, the European Residential REIT and now First Capital REIT. He also says he has been in prison with Newton Glassman's private equity fund Catalyst for 15 years.
Ira and his wife Maxine Granovsky form a philanthropic power couple at the nexus of Establishment Toronto. Maxine is the former head of the Art Gallery of Ontario Board of Trustees and current co-chair of the Sinai Health Foundation. Ira's numerous affiliations are just a Google search away. But you might not know that he's part of The Jewish Federation of Palm Beach's Investment Committee. I am not necessarily saying that's groundbreaking reporting. I mean, if I found out he was part of the Filipino Basketball Association of Thunder Bay, that would be something.
I have collected notes on Ira's investment thinking over the years. He seems like a sensible, not overly stodgy investor. In the "let your winners run, cut your losses" camp. In the 2015 interview below, Ira confidently  rebuts TO real estate permabears and says the factors that matter are immigration and the constraints of the greenbelt. This has of course proven to be a very correct analysis. Ira also drops another key bit of wisdom in that interview that time has proven perceptive. When asked for his advice for young people, he said to go into real estate because finance is too popular:
"Finance is populated by brainiacs, it's populated by people who work 24/7. The real estate business, which is a way bigger business, is populated by some smart people and heavily by a lot of people who are lucky enough to be in the business."
In the 90s, Ira Gluskin was against hedge funds, causing him to lose one senior portfolio manager. But he made a 180 degrees turn in the aughts, writing in 2006:
"I am a big proponent of hedge funds -- our firm runs some -- and I encourage regular people to invest in hedge funds with proven records, but I discourage you from trading like a hedge fund yourself."
Gluskin Sheff was the training ground for a number of high-profile managers, including most notably in recent times Brad Dunkley of Waratah Capital Advisors. I was hesitant to write up Ira because I felt a Bay Street blog writing about him is like the Roman Observer interviewing the Pope. Or more aptly perhaps, the Roman Observer writing up Moses. In contrast to Ira, Moses only lived to be 120, but keep in mind life expectancies were much shorter back then.
Ira's personal real estate portfolio has done well. He paid $3.5m for a home in Forest Hill in 1993. Imagine what it's worth now! He also has a mansion in Palm Beach. The Gluskin Sheff offices were known for being very well appointed, probably the influence of Gerald Sheff's design sensibilities as an architect by training. Ira, on the other hand, seems slightly less concerned with his environment.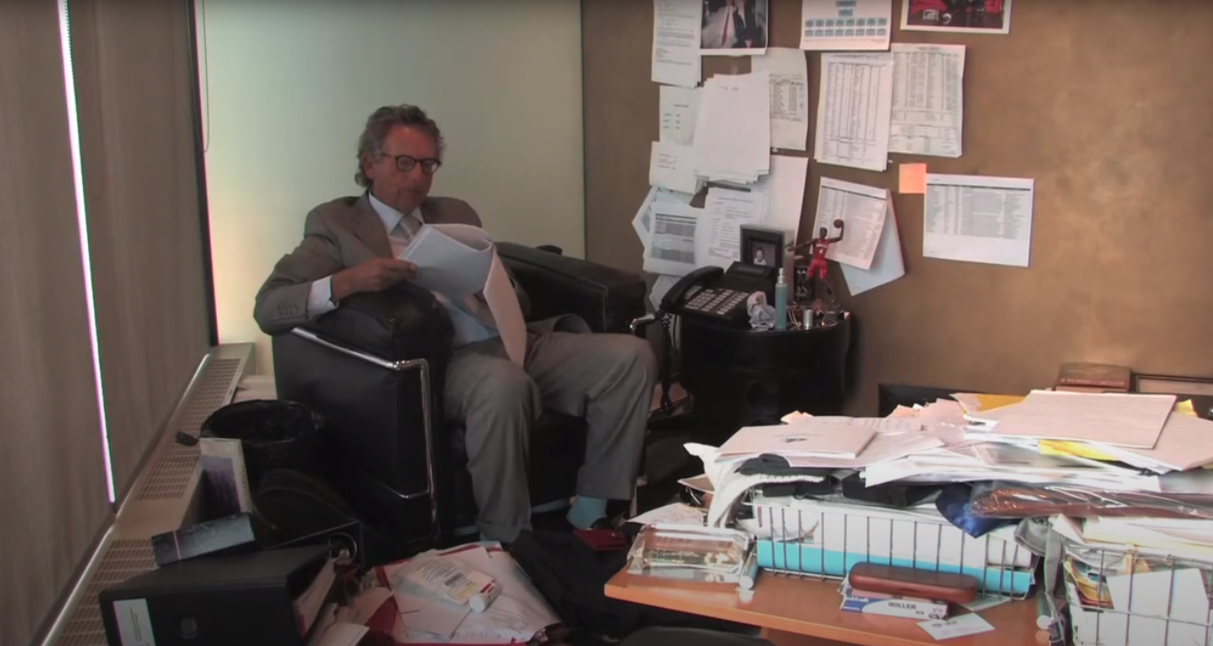 I totally understand Ira's personality! I definitely diagnose a penchant for compulsive honesty. People who have known him say he was an awkward dresser, but he has made dramatic improvements since marrying Maxine Granovsky. He appears to be making up for his fashion-oblivious years at this AGO event. Or maybe this was a costume party and he went in as a school-age Hugh Hefner.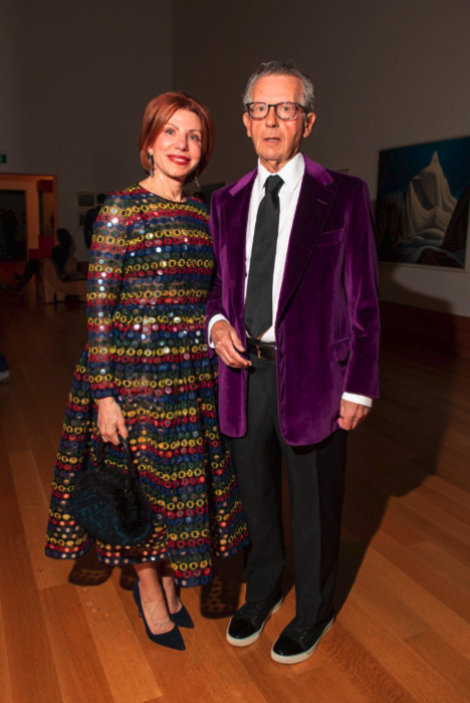 One of the attractions of the investment industry is how many of its participants seem to thrive well into old age. Indeed, Irager, set up when the principals were in their 70s, had at one point considered taking money from external clients. I do not wish to antagonize Ira Gluskin in any way, but I have tagged this story with the "Memba them?" label on my website, even though he's very much active and not forgotten. For the time being.