Prime Quadrant has one of the most unique and least profitable wealth advisory models in the country. They want to be the McKinsey of advising Ultra-High-Net-Worths. They are led by Mo Lidsky, the man from Kharkiv, Ukraine by way of Cleveland, Ohio. The media focuses on Mike Katchen and Kurt MacAlpine, but I believe Mo Lidsky is the most proven millennial executive in the space. I have previously written about them and keep tabs on them, as I believe their business model is worth studying and they have momentum. This post will provide some updates:
-They're still attracting high caliber speakers
-They have expanded across Canada and into the US
-Their big partner in the US is being acquired
I believe every money management firm combines a media arm and an investment arm. Some firms simply have a blog, but Prime Quadrant creates content and events that feature Illuminati-grade speakers. They put up their Mark Spitznagel interview from their big event last November on their YouTube channel, you can listen to some of his macro views here:
If you watch that video closely, you will see that Mo sports an unusual garment that is pretty much his trademark, but that some people consider controversial: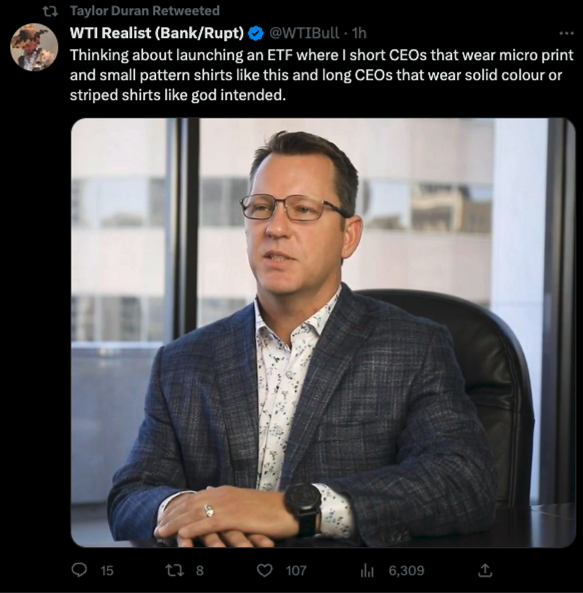 Having such a high caliber network (and bleeding edge manner of dress) would really resonate with a sophisticated clientele. A good place to find such clients is New York City (where Mo Lidsky previously spent part of his youth). Well, last fall, Prime Quadrant made a move in the US, joining with New York City-based Beekman Wealth Partners. That operation is now called Prime Quadrant US. Mo Lidsky provided an enthusiastic quote about his new partner Elizabeth Anderson.
"In all my years in the business, I have never met anyone as aligned with their clients and thoughtful about their interests as Libby and her team."
Where does that leave the rest of you who have met Mo? Elizabeth is a Harvard MBA and a former manager at Princeton University's endowment. Three other staff members joined as part of the merger. So a pretty small addition, considering that Prime Quadrant has staff now numbering more than 70 people. Beekman operates on the basis of retainers, just like Prime Quadrant. They were advising on US$550m in assets. And this comes from only 9 families. That's an average of about $61m per relationship. As I mentioned before, PQ goes after whales. In addition to New York, PQ now has a small presence in Montreal and Calgary. It is also in the process of setting up an office in Vancouver. And apparently, PQ has some pricing power, so profitability is improving.
Separately, Focus Financial, the US serial acquirer that owns 35% of Prime Quadrant's economics, is the object of a takeover offer. Focus has agreed to be acquired for $4B in cash by private equity firm Clayton, Dubilier & Rice. Focus IPOd in mid-2018 at $33 and is going out less than 5 years later at $53. Focus's game was to roll-up Registered Investment Advisors going after HNWs and UHNWs mostly in the US.  Focus did not sell itself from a position of strength. Analysts say that it would be worth more than the takeover bid if it was broken up. When Focus set out on its consolidation play, it was able to buy RIAs at 6x-9x cash flow. But eventually those multiples reached 20x as more such aggregators emerged. One of those buyers happens to be our own CI Financial. Focus CEO Rudy Adolf alluded to CI's moves in 2020, saying he was seeing "insane" prices paid for U.S. wealth managers and said "an international buyer" had just announced a transaction whose price "stunned" him. He might have used the term "drunken sailors." CI CEO Kurt MacAlpine responded: "I find it fascinating that people like to opine on the purchase prices that CI has paid for a business absent any sort of facts whatsoever." So some tensions there.