Anson Funds has emerged as a rare Canadian hedge fund with a good track record, now nearing 15 years, and serious assets (C$1.5B). Not bad for what is an outgrowth of founder and CIO Moez Kassam borrowing money from classmates to play the stock market.  Anson and Moez Kassam are also supporting actors in the ongoing epic battles between Greg Boland and Newton Glassman. And look at this chart: up 32% to the end of April, after being up 44% last year.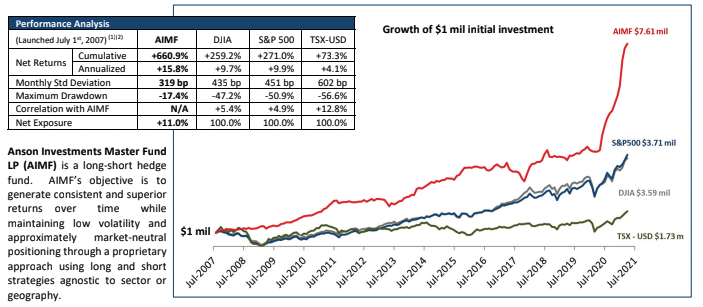 If the chart doesn't load, here's a stylized representation: _/. That's non-logarithmic. This brings the compound rate from inception in July 2007 to 15.8%. The fund started the year with a net long exposure of only 14% (largely unchanged at end of Q1). Anson trades in and out of stocks in an opportunistic manner, paying attention to sentiment. The Nasdaq is 3% away from all-time high, but Anson has taken advantage of several collapses in specific names. I have not known many strong traders with a good long-term track record, but I guess there are exceptions. I still don't know how to process that.  As far as I can make it out, there are four key principals, so it's getting to be a pretty profitable operation.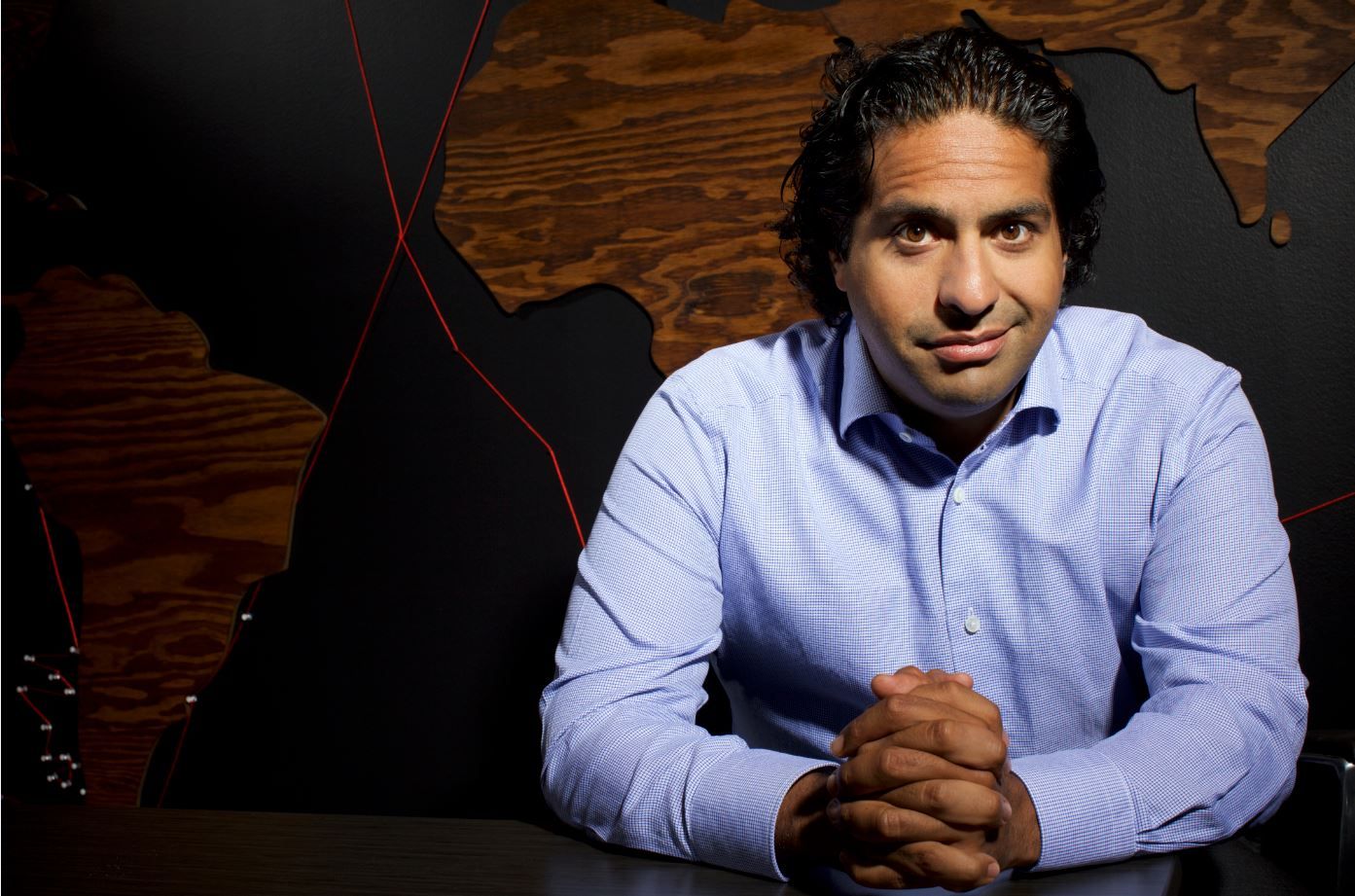 As a sometimes aggressive shortseller, Anson is in the fray. Their involvement as shorts in the downfall of Callidus, Concordia International, various cannabis stocks have left many disgruntled adversaries. The battle lines are broadly as follows: WestFace, Clearwater Capital (Roland Keiper), Anson, K2 Partners (Shawn Kimmel), MMCAP and Marc Cohodes on one side. (Marc Cohodes is the famous American activist short, who is sometimes active in Canada). And on the other side, Newton Glassman, Danny Guy (aka Vincent Hanna), Jason Donville. Don't invite both Newton Glassman and Moez Kassam to your child's baptism.
Hedge fund manager Danny Guy's role in this mud-fight was recently revealed in an investigative article by Roddy Boyd. Danny is apparently upset at the tactics of some shorts because he lost $250m in Concordia International (ie Junior Valeant). Activist shorts practice information warfare, I have no doubt about that. From reading the story, it emerges that some wealthy people are expending a lot of resources over recriminations from trades from many years ago. More recently, Anson has been on the receiving end of incendiary, anonymous online attacks that got a lot of views.
Anson hired lawyers, investigators and the like and late last year answered by launching a $111m lawsuit. The defendants are Robert Doxtator, who is a consultant in the cannabis space, as well as several as-yet unidentified parties. Anson's lawyer is Michael Barrack of Blakes, whose approach is described on his official profile as "street-fighter-meets-master-chess-player". The key defendant is Robert Doxtator who goes by @BettingBruiser on Twitter. His lawyer is the legendary Joe Groia, known for his sarcastic advocacy.
I get a constant stream of smears against Anson. When GameStop happened, it was claimed they were a big victim. They did have what they describe as a "small, manageable position". When Cormark was fined for allowing a client to naked sell short shares, the rumour mill said it was Anson. Anson denies this and says they're still trading with Cormark. I'd be curious to know who the actual client is. Anyways, to the extent Moez has cruelly taken money from defenceless longs, he is making amends. He and his wife Marissa gave $1m to the Michael Garron Hospital in March, resulting in the Moez & Marissa Kassam Food Court.
Some people say I am not giving my usual objective scrutiny to Anson. Nothing could be further from the truth. I was the first to reveal that Moez's hairstylist was banned from the industry for malpractice. Although, I have to admit that in person, the hair works! Plus, you'll be so lost in his mesmerizing eyes, who cares about the hair?
If you need a basic background on Anson and Moez Kassam, read this.