I read Wes Hall's new autobiography No Bootstraps When You're Barefoot: My rise from a Jamaican plantation shack to the boardrooms of Bay Street. It's the no. 1 bestseller in "Racism and discrimination" on Amazon. As you know and acknowledge, I am both Bay Street's Chief Kompromat Officer and the world's 2nd least racist person. So when the self-proclaimed King of Bay Street writes a book denouncing "systemic racism" and a "system designed to hold Black people down", I was duty-bound to investigate. Plus, both Dragon Arlene Dickenson and public intellectual Ben Mulroney endorse the book.

In early childhood, Wes Hall was abandoned by his parents and eventually cared for by his grandmother. He lived in a two bedroom tin shack without indoor plumbing or electricity, on the salary of a plantation worker supporting seven children in the most impoverished parish of Jamaica. He went to school barefoot and got made fun of for being the poor kid even in a place where everyone was poor. Eat your heart out, Miles Nadal! This is how you do a Horatio Alger story! When he was eventually reunited with his mother, she beat him nearly every day, once bloodying his head to the point he needed medical attention. At thirteen, after many threats, she finally threw him out.
If the circumstances of Wes Hall's childhood weren't harsh enough, as a teenager, he had the misfortune of immigrating to a country with systemic racism - you guessed it, our very own Great White North. He still seems to have done OK, if I can judge by his own biography:
He has established himself as the preeminent leader in shareholder advisory services and contested investor situations. Canada's leading newspaper, The Globe and Mail, has called him one of the nation's "most influential powerbrokers," Canadian Business magazine named him one of the "most powerful business people" in 2016, Toronto Life magazine voted him among the "50 most influential Torontonians in 2020,"...
In addition to his business accomplishments, he is a Dragon on that popular show and is on the board of TIFF, one of the most glamorous thing we have. The TIFF CEO is also Black. Wes Hall is on the board of the Hospital for Sick Children Foundation. This year, he was awarded an honorary degree from Queen's University, the whitest university we have. I marvel at what he could have accomplished in a country that wasn't beset with white supremacy. Interestingly, I learned that TIFF had total assets of $101m (mostly land and buildings). Wes Hall is also a self-proclaimed philanthropist with $5,021 in his foundation as of 2020. I am assuming that his philanthropy is structured some other way, because I don't think $5k goes very far in fighting centuries of white privilege.
In 2020, Wes wrote an oped in the Globe decrying anti-Black racism, which eventually led him to found the BlackNorth Initiative. This was right after the killing of George Floyd. He wrote:
I live in the Rosedale neighbourhood in Toronto. I was out for a walk recently and saw an elderly white woman fall. I was hesitant to help her because I was concerned she would be startled by a Black man helping her, or that the neighbours would call the police on a Black man standing over an elderly white woman.
He does not mention how this quandary was resolved. It's unfortunate that such considerations entered his mind. But I always like to look on the bright side of things. I mean that old white lady was probably racist and a beneficiary of colonialism. So f*** her, you know what I mean? What's she doing hoarding a big old home in Rosedale, when she should be in Florida zooming around in a golf cart? To say that old people are racist is itself a stereotype. But just because something is a stereotype doesn't mean it can't be true, you know what I mean? Frankly, it's a 50/50 in my mind that she fell on purpose just to inflict such a painful dilemma on Wes Hall.
I found Wes Hall's life story pretty epic. One of my favourite movies is the Pursuit of Happiness, where Will Smith portrays a man down on his luck launching a career as a financial advisor. Wes Hall starts from a much lower base and arguably rises much farther, becoming an advisor to hedge fund titans and CEOs. Starting with menial jobs such as dishwasher and security guard, he finds his niche in proxy solicitation (ie shareholder votes) and reinvents that game. He professionalized a business that in Canada had been mostly about phoning up retail investors to get them to vote on a corporate resolution into a broader strategic advisory practice. His crowning achievement was maneuvering along with Bill Ackman to oust the blue blood board of Canadian Pacific and installing Hunter Harrison as CEO. Wes doesn't mention it in the book, but he sold majority control of his Kingsdale Advisors to MDC Partners for $50m in 2014. (At the time, MDC was helmed by none other than Miles Nadal). He then bought back full ownership of his firm in 2019. I would guess that his net worth now is north of $100m. But if I wanted a feel-good Jamaican-Canadian story, I would have re-watched Cool Runnings. Indeed, Wes Hall's story comes with a disclaimer about not feeling smug that we live in such a meritocratic country:
Holding a story like mine up as proof that the obsta­cles society stacks against Black and Indigenous folks and people of colour are surmountable further entrenches those obstacles.
God forbid someone should think their obstacles are surmountable!
Does Victor Dodig no longer care about Black people?
I have now read the book and am mulling my verdict. White people, be on notice: if I determine that there's systemic anti-Black racism on Bay Street, you're in big trouble. As a first step, CIBC CEO Victor Dodig must disclose why he's no longer co-chair of BlackNorth. He made a big deal when he joined in 2020, but he's already gone. Is he placing CIBC above the interests of Black people? Is he going to flit from one hot issue to the next just to be cool and relevant?
​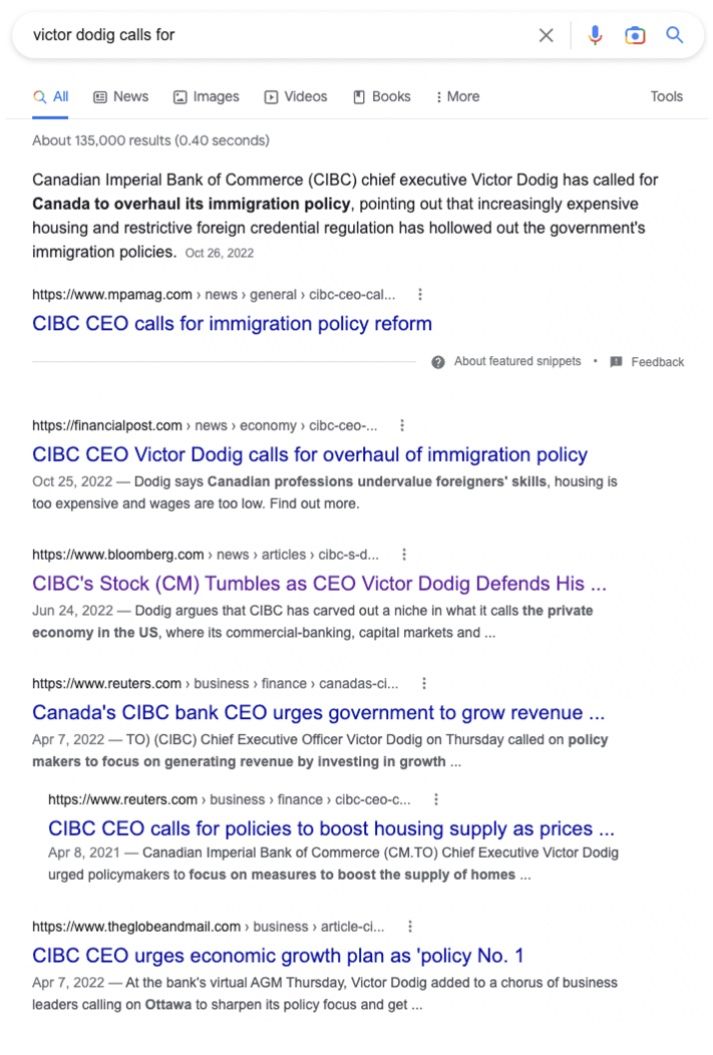 At least, co-Chair Prem Watsa is soldiering on. Along with Scotiabank CEO Brian Porter, Norton Rose chair Walied Soliman and many other potentates. This is just a sample: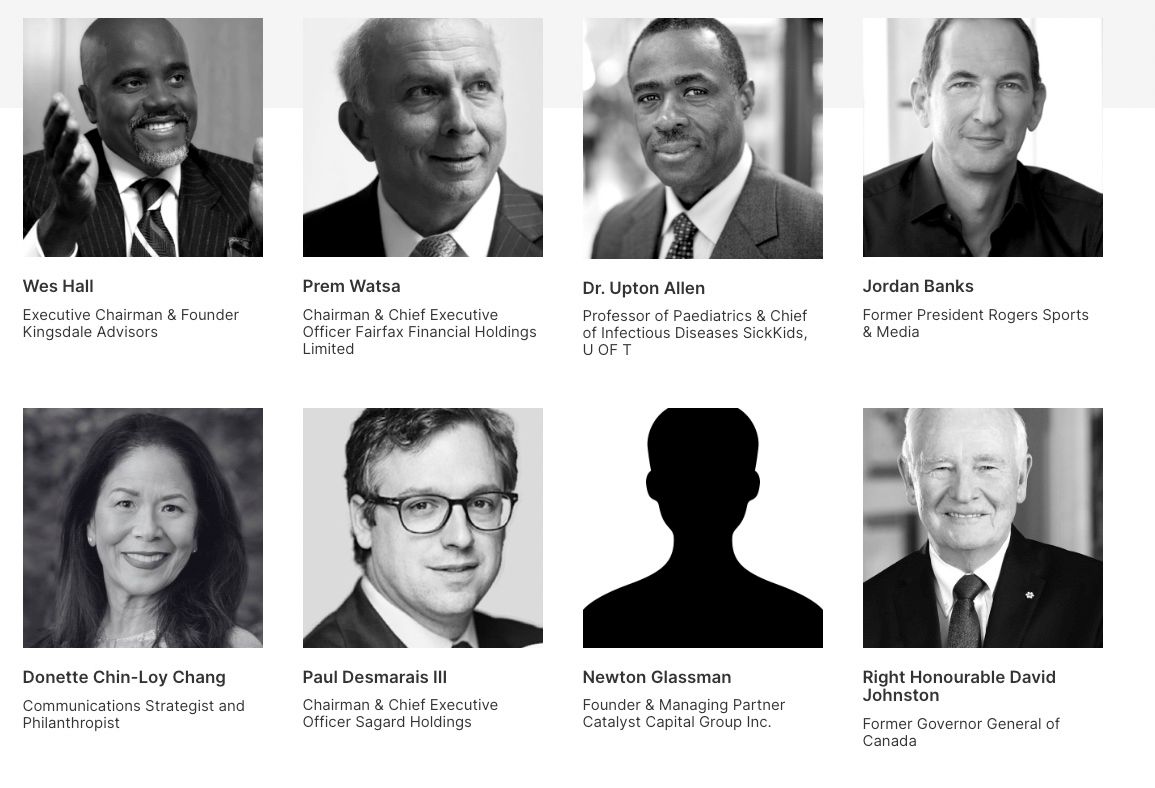 More later.