Former Globe reporter Derek DeCloet once called Greg Boland the Smartest Man on Bay Street. Greg's firm West Face Capital managed billions and employed dozens. West Face's business has now been "destroyed", to use its own words. Over the past two years, all three of Boland's original partners and all key employees left. Ten years ago, West Face was operating out of 15,000 sq. ft of office space with a 24-seat trading area. The latest indication of size I could find was one master fund with $40m in assets. I don't know the exact current status of the business, whether West Face is carrying on as a smaller firm or as a family office. But Greg Boland is now his own chief compliance officer for OSC purposes. That is a major comedown for a Bay Street titan. It's the curse of being called a legend by The Globe.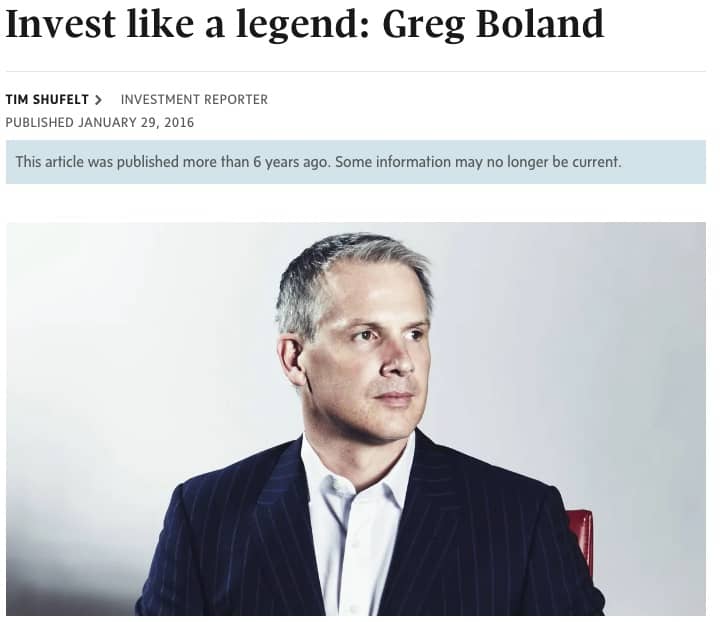 ​
Greg Boland has had a storied career rising from being a waiter to a hedge fund mogul. I wrote about him at the very beginning of this blog. At the time, I was on a quest to find his performance numbers and speculated that his numbers were not as hot as they once were (when he was compounding at 25%+). But I still expected he was beating indices. Well, my knowledge was out of date, his performance was already lacklustre back then. But his early numbers were so strong that his overall career record is probably still respectable. In 2020, I revoked his title as "The Smartest Man on Bay Street", but that was just a joke, I hold no such power.
Softbank's Masayoshi Son famously asked: "In a fight, who wins - the smart guy or the crazy guy?" The answer might be that only the lawyers win. The well-documented "Goliath vs Goliath" multi-round, no-holds barred brawl opposing Boland's West Face and Newton Glassman's Catalyst Capital was certainly one factor in the setbacks experienced by both firms.
The origin of the fight was over Wind Mobile, an acquisition that Newton Glassman was pursuing, but that went to Boland instead. West Face made 5x its money in 18 months on that deal. And Canadians have had competitive cell phone offerings ever since. But West Face paid a heavy price for upsetting Newton Glassman, who unleashed a barrage of legal actions in subsequent years, most of which he lost badly.
Boland had three highly pedigreed partners. Were the partners fighting amidst all the drama? There's some hearsay allusion to the partners "fighting" while West Face was "imploding" in court filings. Former Onex man Thomas Dea left in 2020. "Co-CIO" Peter Fraser left in 2021, as did Anthony Griffin. Dea and Griffin have regrouped at a new firm called Kicking Horse Capital.
In May 2022, West Face's operations and compliance guy Philip Panet left to work for Waratah Advisors. This is apt considering that Waratah is the new King of hedge funds. Ironically, three of the most accomplished men on Bay Street are now their own Chief Compliance Officer (the other two are Bob Krembil and Roland Keiper, probably in order to run family accounts). Usually, that's the lot of small startups.
Boland had large institutional clients who tend to be total squares and can be scared away by controversy. In court filings, Boland blames the cloud of litigation created by Catalyst for affecting West Face's ability to attract and retain clients, business partners and staff. For example, recruits were worried about their reputations and even their security, given the cloak and dagger tactics of some of Catalyst's agents. West Face touted its "strong network and relationships" as a competitive advantage in marketing literature, but that's antiquated business thinking. In fact, many experts now believe that companies should be actively making enemies in order to test their resiliency. You can't have your business depend on a bunch of nervous nellies, can you?
One sign of a quality operation is that it will lead to many spinoffs (like Tiger cubs). These are some former West Face employees who went on their own:
-Nandeep Bamrah, who worked at West Face from 2010 until last year launched his own fund last month. Hunsbury Capital focuses on event-driven investing and special situations. Nandeep's claim to fame is that he finished his MBA when he was 17 years old. Former West Face CO-CIO Peter Fraser is a Senior Advisor.
-White Crane Multi-Strategy, based in Vancouver, headed by one Yu-Jia Zhu has somewhere between $100m and $200m AUM.
-Brandon Moyse, the former West Face employee who was central to the first legal fight between the parties, is now at an obscure firm called Stornoway Portfolio Management.
Jim Doak, a former partner of Greg Boland's previous firm, marvelled at Boland's "James Bond lifestyle". Apparently, per the Globe, "Boland's idea of relaxing is defying death", a reference to his adventurous outdoor pursuits. Boland loved investing in contrarian, seemingly risky situations. Surprisingly, for a "normal" investor, he was pretty active in energy - going back many years ago. That probably didn't help matters. It's been a difficult decade for contrarians and distressed investors - this could be a classic case of someone starved of capital at the very moment their strategy is about to shine.
Greg Boland is around 57 these days. He has a long history of activism and some litigation. His most notorious coup as an activist was getting on the board of Maple Leaf Foods. He once sued Home Capital Group for misleading disclosure - which affected his SHORT position in the stock. I thought that was novel. Some meanies will rejoice at his downfall. The fight did not leave Catalyst unscathed either. West Face played a leading role in alerting the street about the troubled loans at Newton's Callidus Capital, causing its stock price to spiral down. Newton Glassman had plans to launch other public vehicles besides Callidus, but that appears unlikely now. It was a bit MAD - Mutually Assured Destruction. Someone better at pop psychology will have to write how two presumably astute business people could arrive at such a complete omnishambles. Such an article should be titled How West Face went South, as per journalistic conventions, obviously.
"Most investors think risk is a four-letter word. For Greg Boland, it's a beautiful thing. Bankruptcy plays don't faze him. Accounting scandal? The messier, the better. Hated companies, orphaned stocks that everyone else has given up on – he's all for them. He is the investing world's equivalent of a guy who enjoys car wrecks." -Derek DeCloet on Greg Boland in 2006
Globe reporter Derek DeCloet has now retired to raise sheep in his native Australia. Or maybe that's Barry Critchley, I don't know. My point is that things change. Ultimately, hedge funds almost always retrench for one reason: performance. I have seen some of West Face's performance data and there were issues starting as early as 10 years ago. Trying to be brilliant, I have found, is a difficult business. One useful outcome of studying other people's investing careers is to tell yourself: if they can't deliver alpha, what are the chances that I can deliver alpha? On paper, the four partners of West Face had better credentials and resources than 99.9% of Bay Street. If they can't hack it, where does that leave the broker at Harbourfront Wealth? This is the cycle of life on Bay Street. One day you're striking fear in the hearts of business blue bloods and then another day, only a blogger cares enough to write your business obit. That being said, I believe in life after death, in money management at least. Just look at Tom "Lazarus" Stanley.